Sion Jair, 68, has climbed the Old Man of Coniston at least 5,000 times and the emerging science backs him up that regular, vigorous exercise is beneficial for those with the disease, says Tim Lewis
The night before we are due to climb the Old Man of Coniston, Sion Jair calls to warn that, chances are, we wont be able to go up the 803m Lake District fell in the morning. I look out the window of my hotel. Theres little wind, the temperature is mild. I dont say anything, but he seems to read my mind. Its quiet down here, he explains, but at the top, everything is exaggerated. The wind will be 10 times as strong.
Jair is certainly no fair-weather climber. Now 68, he first came to the Lake District in 1968, half a century ago. Hes scaled the Old Man of Coniston, he guesses, on more than 5,000 occasions. He often goes up twice in a day; in winter, he just sticks on crampons. For many years, he has offered courses on mountain navigation and, informally, he has rescued dozens of walkers who have underestimated this craggy Lakeland icon. As much as anyone, Jair is the old man of Coniston.
More remarkable is that Jair has continued this regime despite a succession of debilitating illnesses. For years, he suffered from chronic fatigue syndrome. His doctor suggested a change of air might help him, and in the early 2000s he swapped Spaghetti Junction in Birmingham for Ulverston. The new locale suited him, but then he was diagnosed with pernicious anaemia, a condition in which the immune system attacks healthy cells.
Pernicious anaemia can be moderated with injections of vitamin B12, but Jairs body rejected the treatment. He says: The doctor and a specialist told me, If you dont have the injections, the most you can expect is to live for three years. And it wont be pleasant. Jair, though, kept walking. Initially he would be exhausted from even short hikes but, over time, his tolerance increased drastically.
My body had adjusted to the small amount of B12 I could accept, Jair goes on. The doctors did tests and put it down to although its not scientifically proven my exercise routine. I just kept going and my body had two choices: I could either sit down and die, or the body had to get up and use what it had.
But Jairs medical issues didnt end there. The physical effects of the pernicious anaemia had concealed a severe mental deterioration. I had a brain scan and they found one, he says, wryly. But my brain had shrunk. When they told me I had Alzheimers it was a relief in one way, but then they said: Theres nothing we can do to help you because its too far gone. It had gone past the early stages.
This was about four years ago, and Jairs response was exactly the same as hed given to previous ailments: he laced his boots and went walking.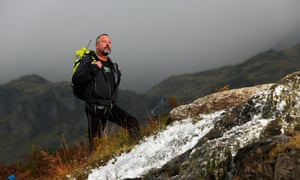 Read more: https://www.theguardian.com/lifeandstyle/2018/mar/25/meet-the-man-living-with-alzheimers-who-climbs-the-same-mountain-every-day