The long read: While her birthplace, South Korea, stood on the brink of political chaos, Suki Kim watched her adopted home of the US go into meltdown after Trumps election. Stuck between past and future, she found herself in an impossible position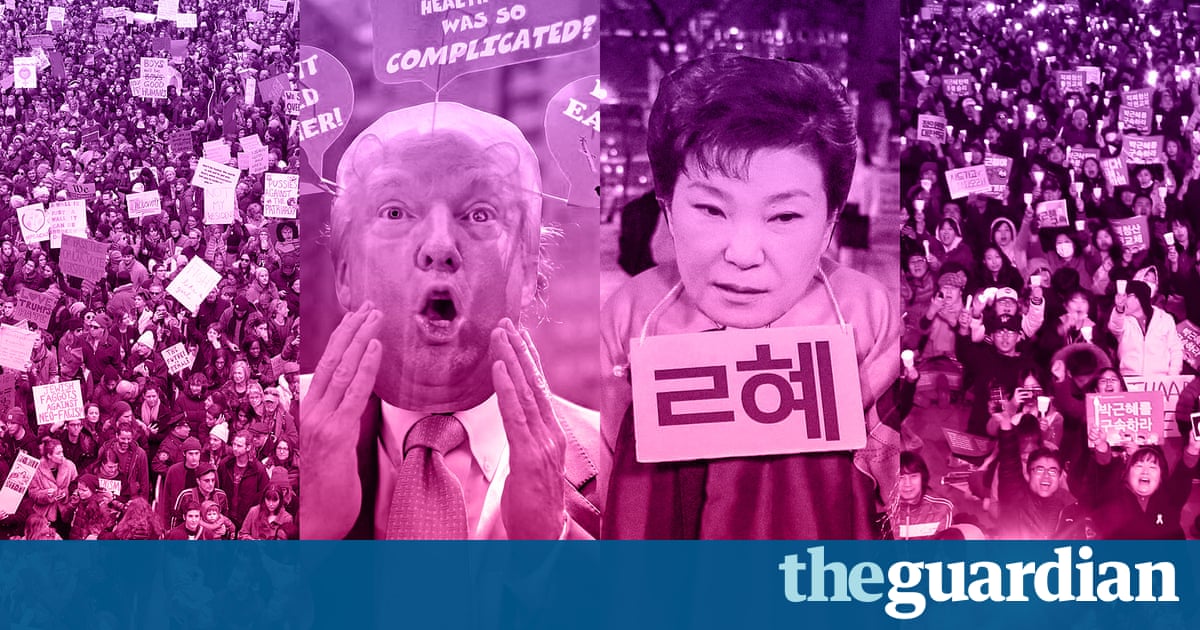 In late October 2016, Gwanghwamun Square in central Seoul was packed with hundreds of thousands of people, young and old, single and in couples, and families with small children. They carried candles and red paper signs, which read: Park Geun-hyestep down.
The nearby subway exits were lined with thousands of riot police. Dressed in neon-green uniforms and carrying plastic shields, they appeared threatening at first glance, but then I noticed that they were just young men, barely in their 20s, looking bored, or tired. They were the army reserve. Because the two Koreas are technically still at war, all Korean young men must serve in the military. In South Korea, the mandatory draft is for 21 months; in North Korea it is 10 years. Dozens of blue-and-white police buses were parked one behind the other to form a barricade, barring the path to the presidential residence and blocking the streets from the subway exit. It seemed a pointless effort, since all one had to do to enter the area where people gathered was to walk around a few blocks to bypass them.
The square is the focal point of Korean nationalism, where a 10-lane avenue leads to the royal palace. In the middle of the sprawling avenue stands the giant bronze statue of Admiral Lee Sun-shin, a 16th-century military hero who fought the Japanese invaders, and a few steps north sits the golden statue of King Sejong who, in 1446, invented the Korean alphabet. Nestled behind the royal palace is the Blue House, the presidential residence.
The protest was scheduled for 6pm, but by early afternoon the crowd already extended as far as the eye could see, each protester demanding that the president step down. The organisers were a loose association of labour unions, students and civic groups. Somewhere in the distance, one of them got up on a stage and shouted, What kind of a country is this? The crowd responded, in unison, Impeach Park Geun-hye!, and then, Arrest Park Geun-hye! Volunteers handed out the candles that have become a symbol of defiance in South Korea. On stage, a succession of musicians of all styles, from hip-hop to folk performed songs that attacked the president, with lyrics telling her to piss off or disappear. The mood was jubilant, and the crowd was orderly. At midnight, people began to leave, though many stayed behind to clean up and recycle the garbage.
I had flown to Seoul from New York, intending to stay just a few days on a stopover after a book festival in the region. Back in the US, the nation was gearing up for the final push before the presidential election. I was in need of a break from the American news as the campaigns became increasingly belligerent. For the first time ever, a woman was about to become the president of the United States, and her rival for the job was a real-estate mogul and reality TV star. In South Korea, Park Geun-hye, the countrys first female president, was mired in a corruption scandal that threatened to unseat her.
Autumn was bleeding into winter, and the leaves were just beginning to turn. Seoul is my childhood home, where I was born and raised, and I get nostalgic in autumn, which any Korean will tell you is the loveliest time to visit the countrys mountainous landscape, but that was not why I found myself stalled there. Every few days, I would wake up and phone the airline to postpone my return flight to New York. This ritual became so familiar that before long I knew the airlines reservation number by heart.
The two countries, on opposite sides of the world, both of which I considered home, seemed on the verge of something significant, and I felt stuck. This feeling of being caught between two places and cultures is, in many ways, the condition of being an immigrant. There is the native home you have left, and the adoptive home in which you make conscious efforts to assimilate. Since I moved to the US as a teenager, it has been, for me, both a refuge and the future. Or, at least, that was the mantra I adopted to cope with the challenges of settling down in a land where I was perpetually viewed as other. And until recently, when Donald Trump rose on an anti-immigrant ticket that proved unnervingly popular, I felt I had done so largely successfully.
So this stopover in Seoul was meant to be a brief reprieve. I had spent my childhood there. It was where everyone spoke my mother tongue, where my skin was not described as being yellow. In Seoul, a part of me readily returns to being a child my natural self, one that had been there before I learned to be Asian in America; and yet, on this visit, Seoul was no refuge. The country was reeling from each new revelation about its president. Tens of thousands of South Koreans took to the streets, and that number would grow and grow, eventually bringing down the president and blowing open the biggest political scandal the country had seen.
---
The unrest had been brewing for months.On 19 October, the principal of Ewha Womans University, one of the countrys top colleges, resigned after a series of student protests. The demonstrations were against the favoured treatment of Chung Yoo-ra, a 20-year-old national equestrian who had been granted a place at the university without the necessary qualifications, and who had later received top grades without once attending classes. After the principal stepped down, it was revealed that Samsung had donated millions to pay for Chungs horse and training, and that she was the daughter of Choi Soon-sil, a close friend and confidante of President Park.
As the corruption scandal unfolded, it emerged that about $70m had been paid by Koreas biggest companies to foundations set up by Choi. In return for these huge sums, it was alleged, Choi used her relationship with the president to influence Korean policy.
Besides using her friendship with President Park for financial gain, Choi, a private citizen with no security clearance, had been given access to classified documents and was said to be advising the president on state affairs. Choi had edited drafts of major presidential speeches, including the address Park made in Dresden, formerly in East Germany, in 2014, in which she called for the reunification of Korea. Investigations revealed that Choi was in charge of decisions large and small relating to the president, from the choice of handbag Park carried, to the nonprofit foundations she championed some of which were, in fact, shell companies created by Choi.
The story then took a strange twist as it was revealed that 60-year-old Choi was the daughter of Choi Tae-min, founder of the Church of Eternal Life and Parks longtime mentor until his death in 1994. The presidents close relationship with both father and daughter became the focus of popular outrage. And the reason it so infuriated the public was that Park was unlike any other president.
As the daughter of Park Chung-hee, the military dictator who ruled South Korea from 1961 to 1979, Park had grown up in the public eye. She spent most of her childhood in the Blue House. In 1974, when Park was 22, her mother was shot and killed by a North Korean sympathiser, who had actually been aiming at her father. After her mothers death, Park became a surrogate first lady, accompanying her father to state events.
Soon after her mothers death, Park met Choi Tae-min, who claimed to be a messenger from her dead mother. Forty years Parks senior, he was a low-ranking policeman turned Buddhist monk turned pseudo pastor, who had changed his name six times and married seven times. Parks emotional dependence on him became so extreme that her father and siblings tried to intervene. When Park Chung-hee was assassinated in 1979 by the head of the Korean Central Intelligence Agency, the killer testified that his actions were provoked by the presidents inability to end Choi Tae-mins influence over the first daughter.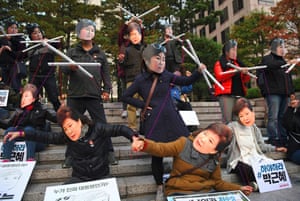 Read more: https://www.theguardian.com/world/2017/may/08/my-two-messed-up-countries-an-immigrants-dilemma-south-korea-us