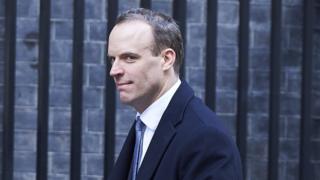 A government minister has described allegations that his diary secretary met men through a "sugar daddy" website as "a storm in a teacup".
Dominic Raab said his first concern was for the 20-year-old aide, who had been left in a "vulnerable" position by the Daily Mirror story.
The woman was suspended from her civil service job following the allegations.
Mr Raab said the "most salacious" thing in the story was an "untrue" claim he ordered the same lunch every day.
'Undisputed access'
"I feel a bit of a letdown to the rich tradition of political pecadillos that we have in this country," he told BBC Radio 5 live's Anna Foster.
"But actually at the end of the day, it's a storm in a tea cup. It's fish-and-chip paper wrapping the next day."
He said his "initial concern" was to "make sure that someone in a vulnerable position like that was properly looked after by us as the department".
The Daily Mirror claimed in a story last week that the woman advertised on website Seeking Arrangement, which describes itself as "the leading sugar daddy dating site", before meeting twice with an undercover reporter and offering "full undisputed access to me" for money.
'Not true'
The newspaper said she had told the reporter she ran the minister's life and knew "his every move" – something it claimed posed a security risk.
A spokesman for Mr Raab's Housing, Communities and Local Government department said: "We are aware of this allegation against one of our members of staff, and are investigating.
"There is no suggestion that any official information has been disclosed."
Asked about the newspaper's claim that Mr Raab was disliked by his staff and dismissive of women in his department, he said: "All I know is that when I came back to the department the next morning, from my private office through to the permanent secretary, the head of my department, it was made very clear that that was nonsense – that not only were those comments not true, but that they were not the widespread opinion in the department."
Italian baguette
His diary secretary was also quoted by the Mirror as saying he ordered the same lunch every day from Pret A Manger: "He has the chicken Caesar and bacon baguette, SuperFruit pot and the Vitamin Volcano smoothie, every day. He is so weird. It's the Dom Raab Special."
Mr Raab said this was not true either, telling BBC Radio 5 live: "It's one of those little things. I'm now getting tweets from Subway making various different offers to me. But the truth is [it's] not true.
"In fact, I don't recall ever asking my diary secretary to get me lunch.
"But the reality is, I do love a good chicken Caesar baguette from Pret. And the reality is sometimes you've just got your head down going through all the paperwork, and the team will often say, 'Can we get you a sandwich?'
"I've been tempted by the spicy Italian baguette from Subway. But, look, I have something different every day."
Read more: http://www.bbc.com/news/uk