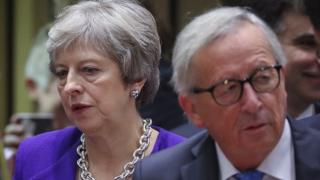 The prime minister has been pretty clear in public that the deal that has been agreed with the EU is, essentially, ready to be signed off.
That's so much the case that she is planning to go to Brussels for a Kodak moment with Jean-Claude Juncker.
We know some of her ministers are pretty grumpy about it and won't exactly be waving her off or welcoming her back with bunting at the Eurostar terminal. But those who, for now, have stayed rather than quit are not in the mood to walk out the door.
That's partly because they seem to believe the conversations happening around the edges of cabinet at the moment, seeking out ways of carrying out nips and tucks to the agreement, are real.
One of those involved joked on tonight (Tuesday) that the attorney general was working 24/7 on "oxygen and vitamin drips" so that he can find a solution.
Another minister close to it all suggested "a lot can be done with schedules, or addenda, or clarifications".
As far as unhappy Brexiteers are concerned, there is still clearly mileage for a few tweaks and tucks to the whole shebang, even though that's not really the sense coming out of Number 10, or more to the point, Brussels.
Cynical I know, but if nothing else, creating a sense that even tiny changes could be on the table has made it possible for unhappy ministers to stay on.
With so much at stake, maybe even throwing them the tiniest of bones to keep the new-look cabinet round the table is a purpose on its own.
In a few days when the actual final documents emerge on Sunday, we'll know if this was just political management or a real process after all.
Read more: http://www.bbc.com/news/uk